Welcome to a New Year in Childcare!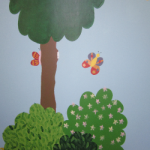 The WIWC Childcare Team would like to extend a warm welcome to all the moms and children that will be joining us for another exciting year in childcare!
We would  like to invite you to our  "CHEEKY MONKEYS ROOM" where there will be plenty of creative play, learning through play and some fun monkey business play. Make sure you check out the calendar for weekly themes!
September Themes
Week  1:   ALL about ME: The kids will create projects and talk about the important things in their life.
Week 2:   Complete " All about me"  and continue with apple trees and apple orchards and all things apple!
Week 3:   Fall things : Acorns and Fall wreaths.
---