April Activities in Childcare are here!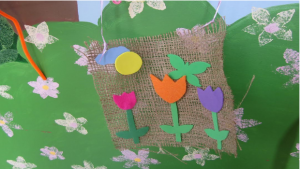 Week 1:
It will be a busy Monday through Thursday with making baskets, bunny hats, and hatching chicks as well as making Passover place mats and Seder cups. There will also be an Easter egg hunt on Thursday!
Week 2:
In honour of Earth Day on Tuesday we will be learning how to recycle using things found on the ground ( sticks, acorns etc.) and turn them into creative art.
It would be great if each child brought in one or two small items that they found to turn into their own creation or collage. The latter part of the week we will paint and decorate Cherry blossom trees and learn about the importance of taking care of trees and our earth.
Week 3:
We will continue welcoming the beginning of spring with tulip gardens and painting beautiful tulips and lilac trees.
---