Choir
Monday 1:00 – 2:30 p.m.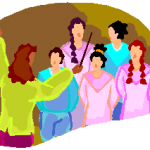 Upstairs Classroom
Come and join us for a fun afternoon of singing in the choir course! We will be working on a variety of music in two-part harmony. There will also be some exercises to help develop vocal technique. If you like to sing, this is the place to be! Some previous musical knowledge would be helpful, but not necessary. All are welcome!
Please Note: There is no class October 10 (Thanksgiving). The last class is on November 28. This is a 10-week course.
Instructor: Wendy Tilson, B. Mus. (McGill University), B.Ed. (University of Toronto)
---