West Island Women's Forum 2022
WEDNESDAY, MARCH 16th AT 7:00 P.M.
FREE ON ZOOM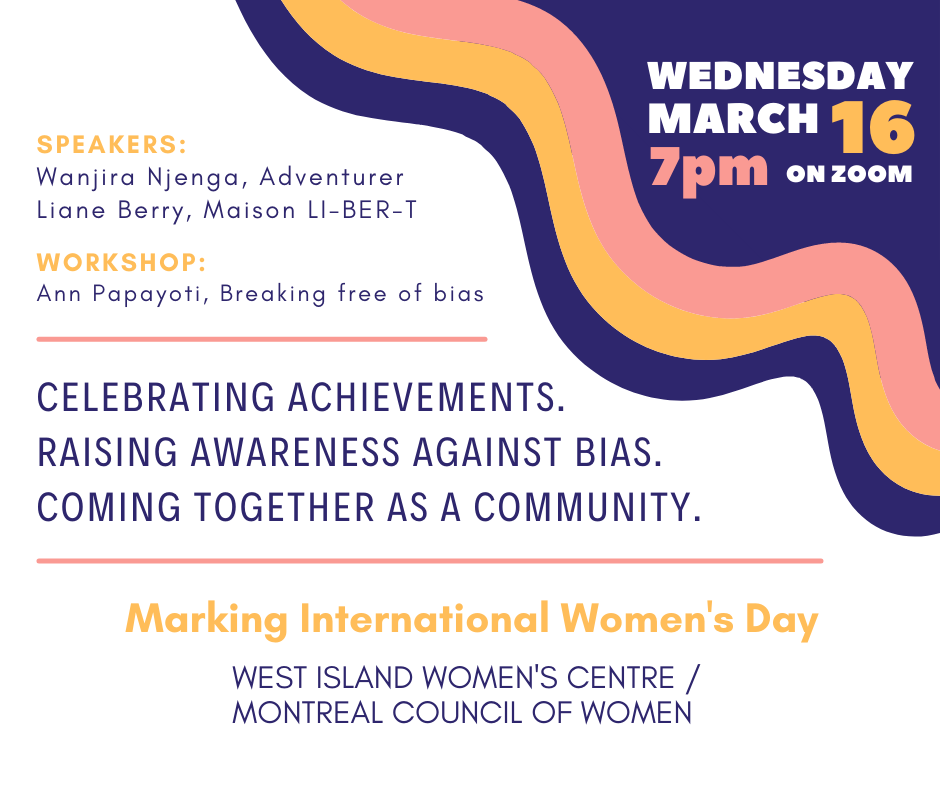 Join us as we mark International Women's Day during this engaging and informative webinar. This is an opportunity for our community to come together. We will welcome Wanjira Njenga who will tell the tale of climbing Mount Kilimanjaro. Our other speaker will be Liane Berry, who provides women with a safe housing alternative after completing an addiction treatment program, empowering them to become self-sufficient through learning, leadership, companionship, and service. Both speakers will focus on this year's theme of "A world free of bias, stereotypes and discrimination. A world that's diverse, equitable, and inclusive. A world where difference is valued and celebrated."
The evening will conclude with a workshop -Discovering the Joy in Your Life – facilitated by Ann Papyoti. Especially these days, discovering joy in your life is incredibly important. During this workshop, we will examine the ways that we can find joy in what we do and how this can connect us with others in our community. Finding motivation, defying expectations, and discovering new challenges will help us all reach new heights in our lives.
This event is organized by the West Island Women's Centre with the support of the Montreal Council of Women. We hope that you can join us for this wonderful event!